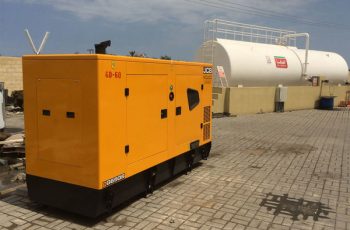 JCB 65-140 KVA JCB DIESELMAX 4CYL
Features:
Best-in-class fuel efficiency
Unrivalled 500 hour service interval
Easy single-sided maintenance
500,000 engines performing globally
Exceptional load acceptance.
Description
The JCB 4-Cylinder Dieselmax engine powers world-class performance for the most demanding environments and applications, making it an ideal engine to fit our QS generators.
At the heart of this range, JCB's 4-cylinder Dieselmax engine provides the power, delivering low fuel consumption, increased efficiency and low noise to deliver superior performance, even in the harshest environments. A range of world-class components have also been fitted as standard to support the engine.
SPECIFICATIONS
Type : Open or Acoustic Canopy
The optional Deep Sea Electronics 4520 control panel includes a transfer switch for smooth changeover between mains and generator power in the event of mains failure – Giving you total control in the most challenging of situations.
The JCB Dieselmax ranges are phosphate dipped with a 9stg powder paint finish for excellent corrosion and UV resistance.
JCB's heavy duty components and robust canopy, ensures quality and longevity from your product; all steel construction with no plastic components.
All of the QS range is fitted with features to cater for challenging environments, such as alternator protection, and a three-stage fuel filtration system and optional self-cleaning air filtration system to protect the engine from poor fuel quality and has a high capacity to capture debris and water. The compact canopy has gone through a precise design process to be as robust and practical as possible in order to minimise logistics costs for dealers and customers and withstand the most rugged environments.
Call Now!
0333 344 3070
Beldham House, Parr Road, Stanmore, HA71NP,
United Kindom